Fitness at the Farm
Events
---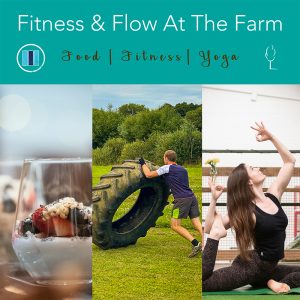 Join Fitness at the Farm and Project PT on Saturday 8th May for a perfect mix of Fitness, Yoga, Brunch & Learning surrounded by nature!
About this Event
Arrive and immediately take a breath of fresh air, feel the weight of the world lift from your shoulders and enjoy the views. You've arrived at your peaceful place for the day.
Gates will open at 9am and you will be warmed with a welcome smile (not on zoom) and breakfast smoothie. Meet other participants, take time to chat to our team and fill yourself with some tasty drinks.
At 9.45am we will start the first fitness activity, full of fun, laughter and accessible for all. Our retreats welcome people in their teens through to golden year superstars.
"Join us for a fun fitness session for all, learn some new exercises, laugh and challenge yourself with new friends. We can't stress how this session will be fun and inclusive, the only screaming will be laughter not army commands from our coaches. Your abs will be on fire from all the laughter."
When 11.15am comes we will take some time out, replenish our bodies, chat and soak up some vitamin D. Don't worry you won't be exercising for 90 minutes, we just like to leave time to teach you and get to know each other.
Starting at 11.45am Hannah Hatha Yoga will lead you through a 60 minute yoga and meditation practice, surrounded by trees, fields and jumping dears. You may even spot the local owl.
By the end of the yoga Leah will have prepared the most delicious lunch buffet, help yourself to juices, tea, coffee and nourish your soul.
The event will draw to a close at 2pm.
Our COVID Protocol is available on our website. www.theprojectpt.com/covidpolicy
Should a national lockdown take place all guests will be fully refunded or offered an alternative date. Full refunds are also given in the event of Bad Weather.
All guests will have their temperatures checked upon entry. Hand sanitiser will be available throughout the session. Guests are asked to bring their own mats. Our team will be regularly washing our hands and food is prepared in a safe and sterile environment. Guests will be shown where to place their mats to adhere to a metres safe distance. The session space is a large area where social distancing in small numbers will be easily done. You are asked to wear a mask when arriving and moving around the space.