Brunch At The Farm
A few brunch recipes served at the Bumble networking event on Sunday 23rd June. Attendees enjoyed some bircher, fruit, yoghurt and frittata muffins before learning to make breakfast pizza from scratch.
Apple & Ginger Bircher
(rough measurements…I'm not one for weighing things)
Flaked Almonds | 50g per serving
Porridge Oats  | 100g per serving
Milk (any kind)  | 100ml per serving
Grated Apple | 1/2 an apple
Grated Ginger | 2cm ginger
Cinnamon | 1/2 tsp
Honey | 1 tbsp
Toast the almonds and oats in a large pan over a medium heat. Slowly add the milk, stirring it in until the oats have softened. Add the grated apple & ginger and stir through. Add the honey and cinnamon to your own taste. Eat hot or keep in a batch in the fridge to eat cold.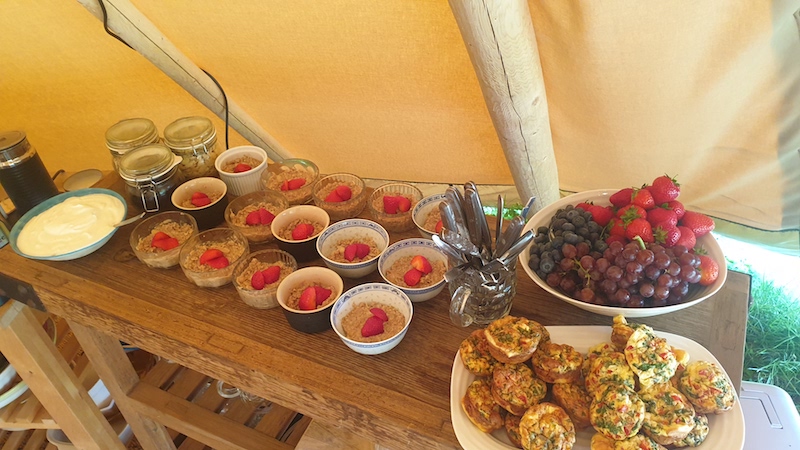 Egg Frittata Muffins (makes roughly 10)
6 eggs
Feta cheese
Chopped Chives
Salt & Pepper
Any of the following
Spinach leaves (shredded)
Red Pepper (diced small)
Red onion / shallot (diced small)
Tomatoes (diced small)
Beat the eggs in a bowl and crumble in the cheese. Add the herbs and veggies and divide the mix between wells in a muffin tray (lightly oil the muffin tray before hand). Bake at 180C for about 15 minutes.
Breakfast Pizza

Self Raising Flour | 100g per serving
Baking Powder  | 1/2 tsp
Salt  | pinch of
Yoghurt | 100g
Passata
Bacon
Mushrooms
Dried or fresh herbs
Grated Mozzarella
1 egg
Mix the flour, salt and baking powder in to a pile on a clean work surface. Make a well and add the yoghurt. Slowly mix the flour in to the yoghurt until it starts to form a doughy ball. You may need less or more flour depending on how sticky the dough feels. Knead the dough well until fully combined and make in to a ball. Sprinkle more flour on to a work surface and using a rolling pin, roll out the dough in a thin round. The dough will bounce back slightly so roll it thinner than you think you'll need.
Heat a large dry frying pan over a medium-high heat. Cook the pizza base for 2 minutes before removing and place on to a baking tray. Spoon the passata over the uncooked side, add your toppings and herbs then sprinkle with the cheese. Finally, crack an egg in to the middle and bake for 8-10 minutes until the cheese is golden and bubbling.